Warning
: preg_match() [
function.preg-match
]: Compilation failed: invalid range in character class at offset 4 in
/var/www/lowcarblivsstil.dk/public_html/wp-content/plugins/pinterest-pin-it-button/includes/simple_html_dom.php
on line
1364
Warning
: preg_match() [
function.preg-match
]: Compilation failed: invalid range in character class at offset 4 in
/var/www/lowcarblivsstil.dk/public_html/wp-content/plugins/pinterest-pin-it-button/includes/simple_html_dom.php
on line
1364
Warning
: preg_match() [
function.preg-match
]: Compilation failed: invalid range in character class at offset 4 in
/var/www/lowcarblivsstil.dk/public_html/wp-content/plugins/pinterest-pin-it-button/includes/simple_html_dom.php
on line
1364
Warning
: preg_match() [
function.preg-match
]: Compilation failed: invalid range in character class at offset 4 in
/var/www/lowcarblivsstil.dk/public_html/wp-content/plugins/pinterest-pin-it-button/includes/simple_html_dom.php
on line
1364
Warning
: preg_match() [
function.preg-match
]: Compilation failed: invalid range in character class at offset 4 in
/var/www/lowcarblivsstil.dk/public_html/wp-content/plugins/pinterest-pin-it-button/includes/simple_html_dom.php
on line
1364
Warning
: preg_match() [
function.preg-match
]: Compilation failed: invalid range in character class at offset 4 in
/var/www/lowcarblivsstil.dk/public_html/wp-content/plugins/pinterest-pin-it-button/includes/simple_html_dom.php
on line
1364
Warning
: preg_match() [
function.preg-match
]: Compilation failed: invalid range in character class at offset 4 in
/var/www/lowcarblivsstil.dk/public_html/wp-content/plugins/pinterest-pin-it-button/includes/simple_html_dom.php
on line
1364
Warning
: preg_match() [
function.preg-match
]: Compilation failed: invalid range in character class at offset 4 in
/var/www/lowcarblivsstil.dk/public_html/wp-content/plugins/pinterest-pin-it-button/includes/simple_html_dom.php
on line
1364
Warning
: preg_match_all() [
function.preg-match-all
]: Compilation failed: invalid range in character class at offset 4 in
/var/www/lowcarblivsstil.dk/public_html/wp-content/plugins/pinterest-pin-it-button/includes/simple_html_dom.php
on line
684
Warning
: Invalid argument supplied for foreach() in
/var/www/lowcarblivsstil.dk/public_html/wp-content/plugins/pinterest-pin-it-button/includes/simple_html_dom.php
on line
691
Warning
: preg_match_all() [
function.preg-match-all
]: Compilation failed: invalid range in character class at offset 4 in
/var/www/lowcarblivsstil.dk/public_html/wp-content/plugins/pinterest-pin-it-button/includes/simple_html_dom.php
on line
684
Warning
: Invalid argument supplied for foreach() in
/var/www/lowcarblivsstil.dk/public_html/wp-content/plugins/pinterest-pin-it-button/includes/simple_html_dom.php
on line
691
Warning
: preg_match() [
function.preg-match
]: Compilation failed: invalid range in character class at offset 4 in
/var/www/lowcarblivsstil.dk/public_html/wp-content/plugins/pinterest-pin-it-button/includes/simple_html_dom.php
on line
1364
Warning
: preg_match() [
function.preg-match
]: Compilation failed: invalid range in character class at offset 4 in
/var/www/lowcarblivsstil.dk/public_html/wp-content/plugins/pinterest-pin-it-button/includes/simple_html_dom.php
on line
1364
Warning
: preg_match() [
function.preg-match
]: Compilation failed: invalid range in character class at offset 4 in
/var/www/lowcarblivsstil.dk/public_html/wp-content/plugins/pinterest-pin-it-button/includes/simple_html_dom.php
on line
1364
Warning
: preg_match() [
function.preg-match
]: Compilation failed: invalid range in character class at offset 4 in
/var/www/lowcarblivsstil.dk/public_html/wp-content/plugins/pinterest-pin-it-button/includes/simple_html_dom.php
on line
1364
Warning
: preg_match() [
function.preg-match
]: Compilation failed: invalid range in character class at offset 4 in
/var/www/lowcarblivsstil.dk/public_html/wp-content/plugins/pinterest-pin-it-button/includes/simple_html_dom.php
on line
1364
Warning
: preg_match() [
function.preg-match
]: Compilation failed: invalid range in character class at offset 4 in
/var/www/lowcarblivsstil.dk/public_html/wp-content/plugins/pinterest-pin-it-button/includes/simple_html_dom.php
on line
1364
Warning
: preg_match() [
function.preg-match
]: Compilation failed: invalid range in character class at offset 4 in
/var/www/lowcarblivsstil.dk/public_html/wp-content/plugins/pinterest-pin-it-button/includes/simple_html_dom.php
on line
1364
Warning
: preg_match() [
function.preg-match
]: Compilation failed: invalid range in character class at offset 4 in
/var/www/lowcarblivsstil.dk/public_html/wp-content/plugins/pinterest-pin-it-button/includes/simple_html_dom.php
on line
1364
Warning
: preg_match_all() [
function.preg-match-all
]: Compilation failed: invalid range in character class at offset 4 in
/var/www/lowcarblivsstil.dk/public_html/wp-content/plugins/pinterest-pin-it-button/includes/simple_html_dom.php
on line
684
Warning
: Invalid argument supplied for foreach() in
/var/www/lowcarblivsstil.dk/public_html/wp-content/plugins/pinterest-pin-it-button/includes/simple_html_dom.php
on line
691
Warning
: preg_match_all() [
function.preg-match-all
]: Compilation failed: invalid range in character class at offset 4 in
/var/www/lowcarblivsstil.dk/public_html/wp-content/plugins/pinterest-pin-it-button/includes/simple_html_dom.php
on line
684
Warning
: Invalid argument supplied for foreach() in
/var/www/lowcarblivsstil.dk/public_html/wp-content/plugins/pinterest-pin-it-button/includes/simple_html_dom.php
on line
691
Bare lige for at komme med en disclaminer vil jeg starte med at slå fast, at proteinpulver ikke er en del af den gængse LCHF kost, hvor proteinindtaget typisk forsøges holdt på et moderat niveau. Derimod er det er mit personlige valg, at forsøge at implementere lidt mere protein og kulhydrat i forbindelse med træning. Jeg drømmer virkelig om, at få bygget nogle flere muskler på min småslatne akademikerkrop, der har været i 'opgave-skrivning-og-sidde på-numse-fase' lidt for længe! Gud, hvor er mine muller altså efterhånden fraværende! :P
Så da jeg for noget tid siden blev spurgt, om jeg ville anmelde proteinpulver af Bodybuilding Warehouse's eget mærke, takkede jeg ja tak. Jeg tænkte, at det var en udmærket måde at udvide min horisont indenfor proteinpulver. Det ville være en ganske blid start. ;)
Jeg har nemlig før forsøgt mig med proteinpulver i forbindelse med træning, men hver gang jeg har købt en produkt er jeg blevet fælt skuffet, simpelthen fordi smagen har været svær for mig at leve med. Og jeg må indrømme, at jeg ikke er typen der ikke er fan af at fylde ting i mig, hvis ikke kan lide smagen. Og jeg kan altså heller ikke finder ud af at holde mig for næsen og drikke! :P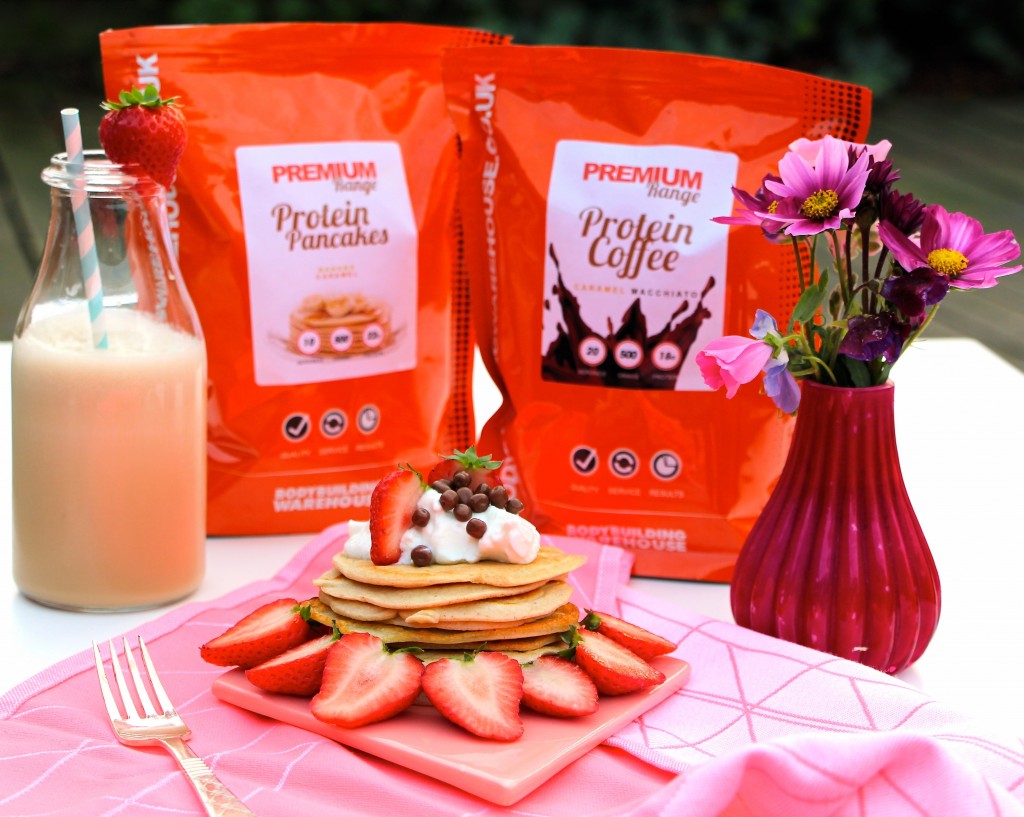 Da jeg ikke har det helt store kendskab til "protein verdenen" allierede jeg mig med min to mountainbike brødre. Jeg synes ligesom, jeg ville have lidt erfaring ind i anmeldelsen. ;) Vi testede produkterne Protein coffee (Caramel Macchiato) og Protein pancakes (banana caramel).
Da det kom til proteinkaffen var meningerne delte. Min ene bror, som er vant til at drikke sin kaffe sort og helst flere kopper ad gangen, synes det var noget 'tøsekaffe'. Min anden bror, som er typen der har en kaffemaskine til flere tusinde kroner og som drikker alle mulige varianter, synes den smagte så fantastisk at han huggede 2 kopper i sig med det samme. En kold og en varm version.
Og så var der mig tilbage.. Jeg elsker kaffe! Men kun i chokolade, kage og andet godt. Hø hø.. Gælder det? :P Jeg har simpelthen ikke lært at drikke det endnu, selvom jeg gerne ville – det dufter jo himmelsk! Så jeg prøvede mig lidt frem. Og jeg må indrømme, at jeg var pænt overrasket. Jeg kunne jo rent faktisk lide smagen?! Altså stadig i mindre doser, man er vel rookie. ;) Men vigtigst af alt: der var ingen sær bismag eller underlig melet fornemmelse, som ellers har været min erfaring! Yay! :P Min version var blendet med vand, isterning og extra creamy kokosmælk. Måske er denne form for kaffe vejen for mig ind i de voksnes rækker, hvor kaffe drikning vel nærmest er alfa omega? :P
En portion af kaffen indeholder 84kcal, 17,5 gram protein og blot 0,5 gram kulhydrat.
Mht. pandekagerne, der var med banan og karamelsmag, var jeg som madblogger lidt mere på hjemmebane. Come on, det er jo pandekager – hvor svært kan det lige være? ;)
Pandekagerne var super nemme at gå til, da pulveret bare skulle blandes med vand og steges i kokosolie. De havde en dejlig smag, men var måske lidt rigeligt til den søde side, hvilket skyldes banansmagen.
Pandekagerne indeholder havregryn, så hvis man ikke er til korn, så er de nok ikke vejen frem. Men de at mine læsere, der ikke er LCHF'er vil sagtens kunne spise disse. :)
En portion pandekager indeholder 195 kcal, 22 gram protein og ca. 19 gram kulhydrater (heraf 2,30 gram fibre).
Proteinpulveret er jo fra et fitnessbrand, så derfor bør det for god ordens skyld nævnes, at produkterne indeholder sødestoffer (Sucralose). Om man vil indtage disse, må være op til den enkelte af afgøre. :)
NB! Jeg har modtaget disse produkter gratis fra BodyBuilding Warehouse for at anmelde dem. Men anmeldelsen, billederne og de to brødre er 100% mine egne.. ;)
Du kan endvidere læse om mine erfaringer med BodyBuilding Warehouse her, hvor du også finder en rabatkode til førstegangskøb.