Warning
: preg_match() [
function.preg-match
]: Compilation failed: invalid range in character class at offset 4 in
/var/www/lowcarblivsstil.dk/public_html/wp-content/plugins/pinterest-pin-it-button/includes/simple_html_dom.php
on line
1364
Warning
: preg_match() [
function.preg-match
]: Compilation failed: invalid range in character class at offset 4 in
/var/www/lowcarblivsstil.dk/public_html/wp-content/plugins/pinterest-pin-it-button/includes/simple_html_dom.php
on line
1364
Warning
: preg_match() [
function.preg-match
]: Compilation failed: invalid range in character class at offset 4 in
/var/www/lowcarblivsstil.dk/public_html/wp-content/plugins/pinterest-pin-it-button/includes/simple_html_dom.php
on line
1364
Warning
: preg_match() [
function.preg-match
]: Compilation failed: invalid range in character class at offset 4 in
/var/www/lowcarblivsstil.dk/public_html/wp-content/plugins/pinterest-pin-it-button/includes/simple_html_dom.php
on line
1364
Warning
: preg_match() [
function.preg-match
]: Compilation failed: invalid range in character class at offset 4 in
/var/www/lowcarblivsstil.dk/public_html/wp-content/plugins/pinterest-pin-it-button/includes/simple_html_dom.php
on line
1364
Warning
: preg_match() [
function.preg-match
]: Compilation failed: invalid range in character class at offset 4 in
/var/www/lowcarblivsstil.dk/public_html/wp-content/plugins/pinterest-pin-it-button/includes/simple_html_dom.php
on line
1364
Warning
: preg_match() [
function.preg-match
]: Compilation failed: invalid range in character class at offset 4 in
/var/www/lowcarblivsstil.dk/public_html/wp-content/plugins/pinterest-pin-it-button/includes/simple_html_dom.php
on line
1364
Warning
: preg_match() [
function.preg-match
]: Compilation failed: invalid range in character class at offset 4 in
/var/www/lowcarblivsstil.dk/public_html/wp-content/plugins/pinterest-pin-it-button/includes/simple_html_dom.php
on line
1364
Warning
: preg_match() [
function.preg-match
]: Compilation failed: invalid range in character class at offset 4 in
/var/www/lowcarblivsstil.dk/public_html/wp-content/plugins/pinterest-pin-it-button/includes/simple_html_dom.php
on line
1364
Warning
: preg_match() [
function.preg-match
]: Compilation failed: invalid range in character class at offset 4 in
/var/www/lowcarblivsstil.dk/public_html/wp-content/plugins/pinterest-pin-it-button/includes/simple_html_dom.php
on line
1364
Warning
: preg_match() [
function.preg-match
]: Compilation failed: invalid range in character class at offset 4 in
/var/www/lowcarblivsstil.dk/public_html/wp-content/plugins/pinterest-pin-it-button/includes/simple_html_dom.php
on line
1364
Warning
: preg_match() [
function.preg-match
]: Compilation failed: invalid range in character class at offset 4 in
/var/www/lowcarblivsstil.dk/public_html/wp-content/plugins/pinterest-pin-it-button/includes/simple_html_dom.php
on line
1364
Warning
: preg_match() [
function.preg-match
]: Compilation failed: invalid range in character class at offset 4 in
/var/www/lowcarblivsstil.dk/public_html/wp-content/plugins/pinterest-pin-it-button/includes/simple_html_dom.php
on line
1364
Warning
: preg_match() [
function.preg-match
]: Compilation failed: invalid range in character class at offset 4 in
/var/www/lowcarblivsstil.dk/public_html/wp-content/plugins/pinterest-pin-it-button/includes/simple_html_dom.php
on line
1364
Warning
: preg_match() [
function.preg-match
]: Compilation failed: invalid range in character class at offset 4 in
/var/www/lowcarblivsstil.dk/public_html/wp-content/plugins/pinterest-pin-it-button/includes/simple_html_dom.php
on line
1364
Warning
: preg_match() [
function.preg-match
]: Compilation failed: invalid range in character class at offset 4 in
/var/www/lowcarblivsstil.dk/public_html/wp-content/plugins/pinterest-pin-it-button/includes/simple_html_dom.php
on line
1364
Warning
: preg_match_all() [
function.preg-match-all
]: Compilation failed: invalid range in character class at offset 4 in
/var/www/lowcarblivsstil.dk/public_html/wp-content/plugins/pinterest-pin-it-button/includes/simple_html_dom.php
on line
684
Warning
: Invalid argument supplied for foreach() in
/var/www/lowcarblivsstil.dk/public_html/wp-content/plugins/pinterest-pin-it-button/includes/simple_html_dom.php
on line
691
Warning
: preg_match_all() [
function.preg-match-all
]: Compilation failed: invalid range in character class at offset 4 in
/var/www/lowcarblivsstil.dk/public_html/wp-content/plugins/pinterest-pin-it-button/includes/simple_html_dom.php
on line
684
Warning
: Invalid argument supplied for foreach() in
/var/www/lowcarblivsstil.dk/public_html/wp-content/plugins/pinterest-pin-it-button/includes/simple_html_dom.php
on line
691
Warning
: preg_match() [
function.preg-match
]: Compilation failed: invalid range in character class at offset 4 in
/var/www/lowcarblivsstil.dk/public_html/wp-content/plugins/pinterest-pin-it-button/includes/simple_html_dom.php
on line
1364
Warning
: preg_match() [
function.preg-match
]: Compilation failed: invalid range in character class at offset 4 in
/var/www/lowcarblivsstil.dk/public_html/wp-content/plugins/pinterest-pin-it-button/includes/simple_html_dom.php
on line
1364
Warning
: preg_match() [
function.preg-match
]: Compilation failed: invalid range in character class at offset 4 in
/var/www/lowcarblivsstil.dk/public_html/wp-content/plugins/pinterest-pin-it-button/includes/simple_html_dom.php
on line
1364
Warning
: preg_match() [
function.preg-match
]: Compilation failed: invalid range in character class at offset 4 in
/var/www/lowcarblivsstil.dk/public_html/wp-content/plugins/pinterest-pin-it-button/includes/simple_html_dom.php
on line
1364
Warning
: preg_match() [
function.preg-match
]: Compilation failed: invalid range in character class at offset 4 in
/var/www/lowcarblivsstil.dk/public_html/wp-content/plugins/pinterest-pin-it-button/includes/simple_html_dom.php
on line
1364
Warning
: preg_match() [
function.preg-match
]: Compilation failed: invalid range in character class at offset 4 in
/var/www/lowcarblivsstil.dk/public_html/wp-content/plugins/pinterest-pin-it-button/includes/simple_html_dom.php
on line
1364
Warning
: preg_match() [
function.preg-match
]: Compilation failed: invalid range in character class at offset 4 in
/var/www/lowcarblivsstil.dk/public_html/wp-content/plugins/pinterest-pin-it-button/includes/simple_html_dom.php
on line
1364
Warning
: preg_match() [
function.preg-match
]: Compilation failed: invalid range in character class at offset 4 in
/var/www/lowcarblivsstil.dk/public_html/wp-content/plugins/pinterest-pin-it-button/includes/simple_html_dom.php
on line
1364
Warning
: preg_match() [
function.preg-match
]: Compilation failed: invalid range in character class at offset 4 in
/var/www/lowcarblivsstil.dk/public_html/wp-content/plugins/pinterest-pin-it-button/includes/simple_html_dom.php
on line
1364
Warning
: preg_match() [
function.preg-match
]: Compilation failed: invalid range in character class at offset 4 in
/var/www/lowcarblivsstil.dk/public_html/wp-content/plugins/pinterest-pin-it-button/includes/simple_html_dom.php
on line
1364
Warning
: preg_match() [
function.preg-match
]: Compilation failed: invalid range in character class at offset 4 in
/var/www/lowcarblivsstil.dk/public_html/wp-content/plugins/pinterest-pin-it-button/includes/simple_html_dom.php
on line
1364
Warning
: preg_match() [
function.preg-match
]: Compilation failed: invalid range in character class at offset 4 in
/var/www/lowcarblivsstil.dk/public_html/wp-content/plugins/pinterest-pin-it-button/includes/simple_html_dom.php
on line
1364
Warning
: preg_match() [
function.preg-match
]: Compilation failed: invalid range in character class at offset 4 in
/var/www/lowcarblivsstil.dk/public_html/wp-content/plugins/pinterest-pin-it-button/includes/simple_html_dom.php
on line
1364
Warning
: preg_match() [
function.preg-match
]: Compilation failed: invalid range in character class at offset 4 in
/var/www/lowcarblivsstil.dk/public_html/wp-content/plugins/pinterest-pin-it-button/includes/simple_html_dom.php
on line
1364
Warning
: preg_match() [
function.preg-match
]: Compilation failed: invalid range in character class at offset 4 in
/var/www/lowcarblivsstil.dk/public_html/wp-content/plugins/pinterest-pin-it-button/includes/simple_html_dom.php
on line
1364
Warning
: preg_match() [
function.preg-match
]: Compilation failed: invalid range in character class at offset 4 in
/var/www/lowcarblivsstil.dk/public_html/wp-content/plugins/pinterest-pin-it-button/includes/simple_html_dom.php
on line
1364
Warning
: preg_match_all() [
function.preg-match-all
]: Compilation failed: invalid range in character class at offset 4 in
/var/www/lowcarblivsstil.dk/public_html/wp-content/plugins/pinterest-pin-it-button/includes/simple_html_dom.php
on line
684
Warning
: Invalid argument supplied for foreach() in
/var/www/lowcarblivsstil.dk/public_html/wp-content/plugins/pinterest-pin-it-button/includes/simple_html_dom.php
on line
691
Warning
: preg_match_all() [
function.preg-match-all
]: Compilation failed: invalid range in character class at offset 4 in
/var/www/lowcarblivsstil.dk/public_html/wp-content/plugins/pinterest-pin-it-button/includes/simple_html_dom.php
on line
684
Warning
: Invalid argument supplied for foreach() in
/var/www/lowcarblivsstil.dk/public_html/wp-content/plugins/pinterest-pin-it-button/includes/simple_html_dom.php
on line
691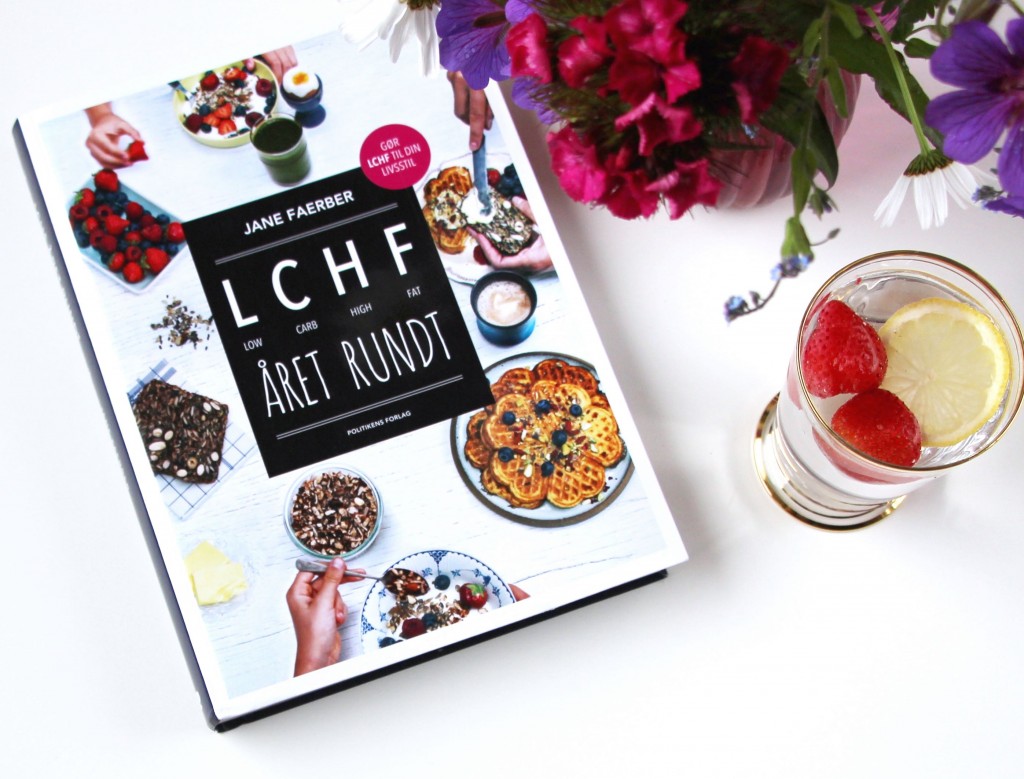 For et godt stykke tid siden modtog jeg Jane Faerbers nyeste bog "LCHF året rundt" fra Politikens Forlag, som jeg siden da har læst, bladret igennem på ny og afprøvet opskrifter fra. Og jeg må sige, at jeg har fundet den ret så lækker! :)
Det er vel næppe nogen hemmelighed, at jeg rigtig godt kan lide Janes tilgang til LCHF, da det handler om at kosten skal tilpasses til den enkelte – og ikke omvendt! Jeg tror, man skal dreje armen hårdt om på Jane, førend man får hende til at udstikke en "one-fits-them-all" kind of madplan. I ved, sådan en absolut madplan, der dikterer: "Til morgenmad skal du spise 500 gram magert kød og halvanden mandel. Hverken mere eller mindre. Ellers gør du det forkert!" Okay, det er selvfølgelig sat lidt på spidsen, ikke..? ;)
I stedet plæderer Jane for en mere hedonistisk tilgang, hvor der ikke tælles kalorier, kulhydrater eller noget lignende.
Som Jane også lægger op til i sin nyeste bog, så skal man passe på med den slags fy-kostmentalitet, hvor noget er forbudt. Det slags kan nemlig have en indvirkning på, at man kommer til at føle sig som en fiasko – eller måske kommer til at overspise?! I ved, hvor man tænker: "Så! Nu kom jeg til at spise en skive rugbrød, så kan jeg ligeså godt give den gas resten af dagen, for den allerede ødelagt". I så fald kan man hurtigt komme til at give sig selv carte blanche til overspisende adfærd eller opleve skyldfølelse. Og det er jo slet ikke meningen, at mad skal have den indflydelse på os! Så nej, hverken ups'ere i maden eller badevægtens tal skal definere hvem vi er, hvor godt vi har det med os selv eller om vores dag har været god!
Jeg har indimellem bemærket, at Jane sommetider skal høre for, at hun spiser en mere liberal LCHF. Og ja, der er da også opskrifter hvor der indgår en banan, kokossukker eller nogle rodfrugter. Men for mig at se, så gør det ikke bogen mindre LCHF egnet. Nærmest tværtimod! For denne bog er ikke blot "LCHF året rundt", den er også "LCHF for hele familien". (Og for vennerne og arbejdskollegaerne.. ;) ) Og det betyder, at der også er godter til børnefamilien, hvor der måske indgår lidt ekstra kulhydrater til ungerne. Bogen henvender sig derfor også til folk, der gerne vil kunne tilbyde LCHF venlig mad til gæster, der måske ikke lige kan se fidusen i mad der er dynget til med smør, ost og fløde. Der er vitterligt muligt at finde noget for en hver smag i denne bog. Både det strikse og det liberale.
Og hvis man foretrækker striks LCHF, så har Jane lavet en lille byttelisten, hvor man kan finde gode alternativer og konvertere liberale madvarer til strikse.
"LCHF året rundt" er ikke så teoritung som de foregående bøger "Mæt og slank med LCHF" og "Spis dig mæt og glad", men bogen har indledningsvis et kapitel om de mest basale LCHF spørgsmål. Hvis man vil et spadestik dybere ift. Kostteori eller lignende, så kan man jo ty til en af disse tidligere bøger eller orientere sig på LCHF blogs og – hjemmesider.
Inden jeg gik i gang med bogen, der lavede jeg lige sådan en lille minitest. Den bestod i, at jeg skrev alle de sæsonretter ned, jeg kunne komme i tanke om. Altså hvilken mad spiser vi egentligt i løbet af sådan et år? Ja ja, det lyder virkelig videnskabelig, ikke? ;) Nå, men ikke desto mindre, så lød min liste som følgende..
Sild med karrysalat, Risengrød, Ris a la mande, Snobrød, Lagkage, Boller, Kagemand, Flæskesteg, Jordbær med råcreme, Konfekt, Småkager, Kransekage, Nytårstorsk, Sommersalater, Tarteletter, Hveder.
Da jeg så stod med bogen i hånden viste det sig, at Jane var kommet mig i forkøbet med de fleste retter. Dem der står i kursiv var dem der "manglede", men til gengæld kan du finde de fleste at disse opskrifter på hendes blog. ;) Så der er vitterligt noget til en hver lejlighed.
Afslutningsvis vil jeg lige nævne, at dette føles som den mest personlige bog fra Janes hånd. Dette skyldes i høj grad tilstedeværelsen af Janes familie, der indgår i den samlede fortælling om LCHF året rundt. Og det gør virkelig bogen levende og emnet nærværende. :)
Det skal også bemærkes, at bogen er super lækkert strikket sammen. Billeder og styling er i virkelig høj kvalitet. Det er tydeligt at se, at dygtige Maria har haft en finger med i spillet. Der næppe nogen som Maria, der lige kan smide et par kviste timian, lidt peberkorn eller et par hvidløgsfed på den der total lækre måde! :P Så stor cadeau til hende også! :)
Til slut kan I lige få lov at nyde et par billeder fra bogen. :)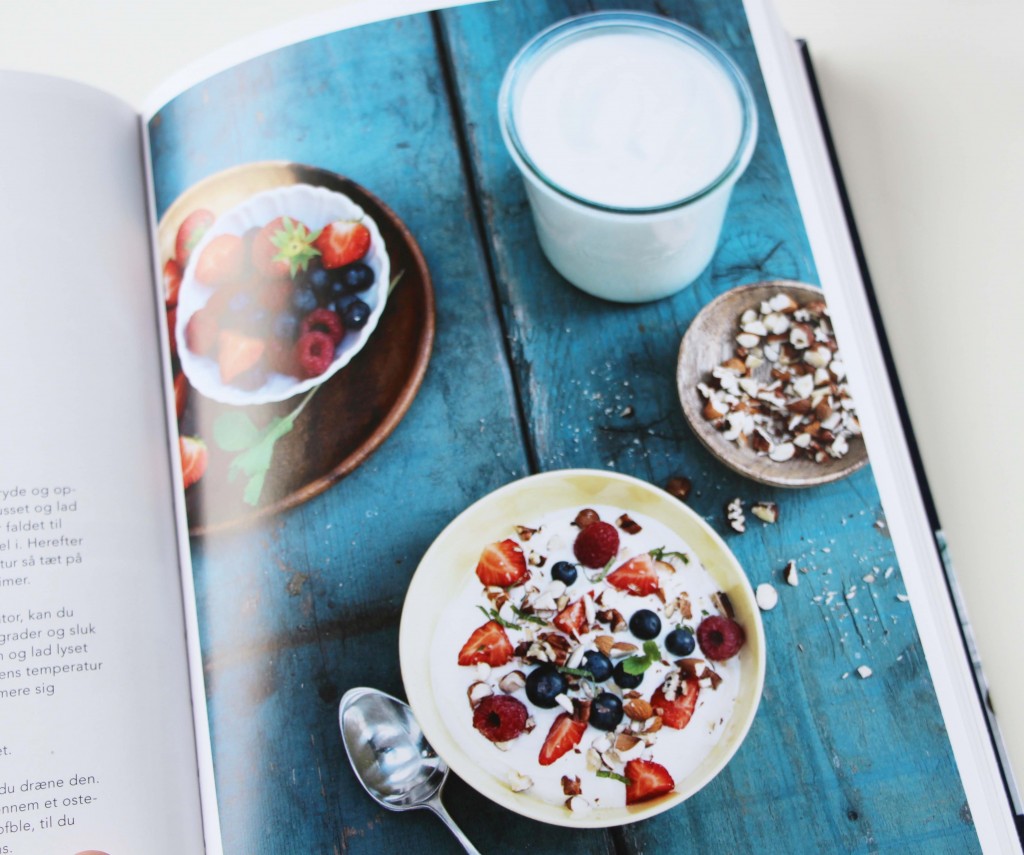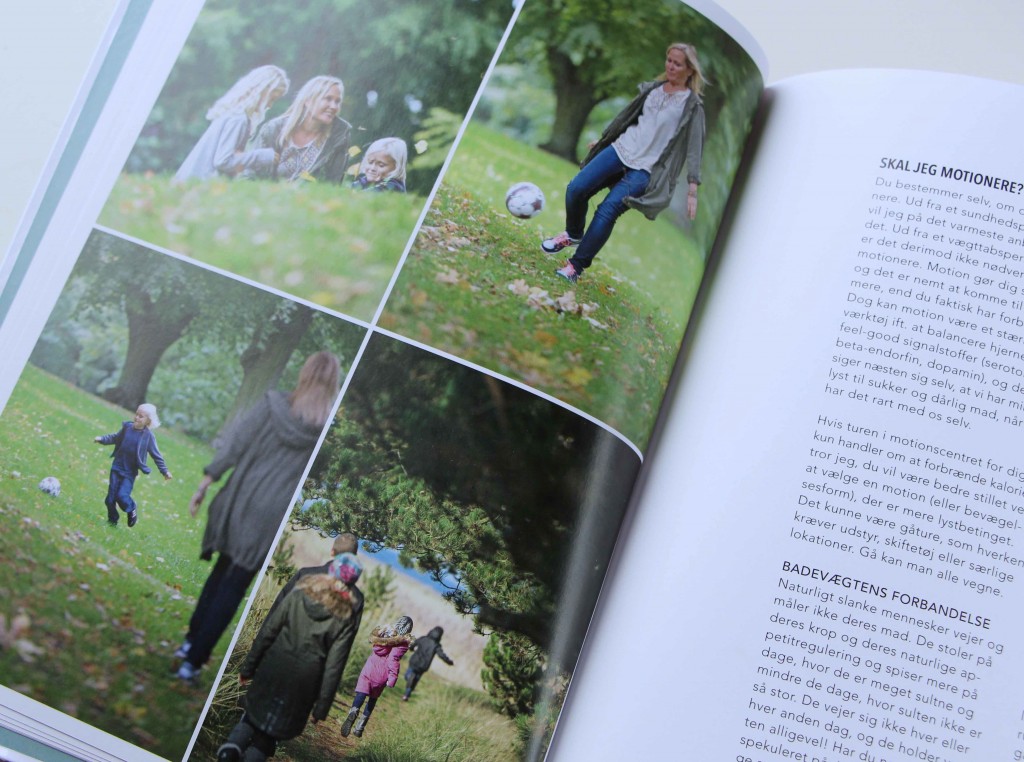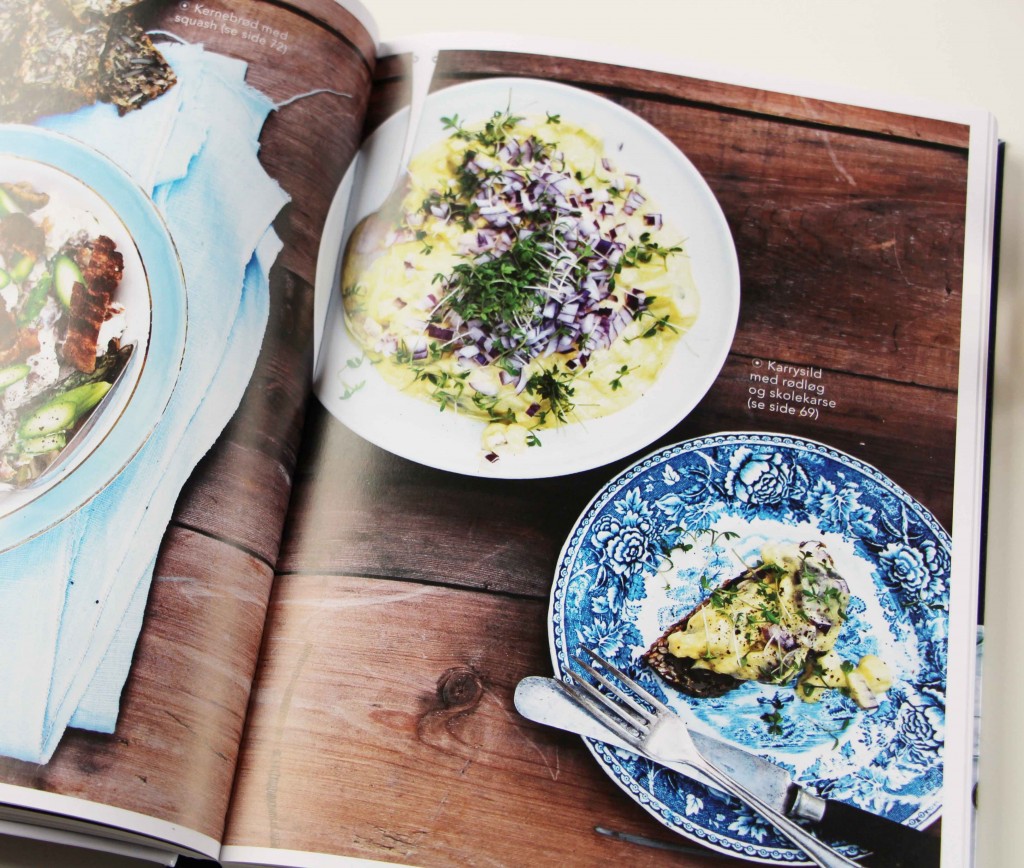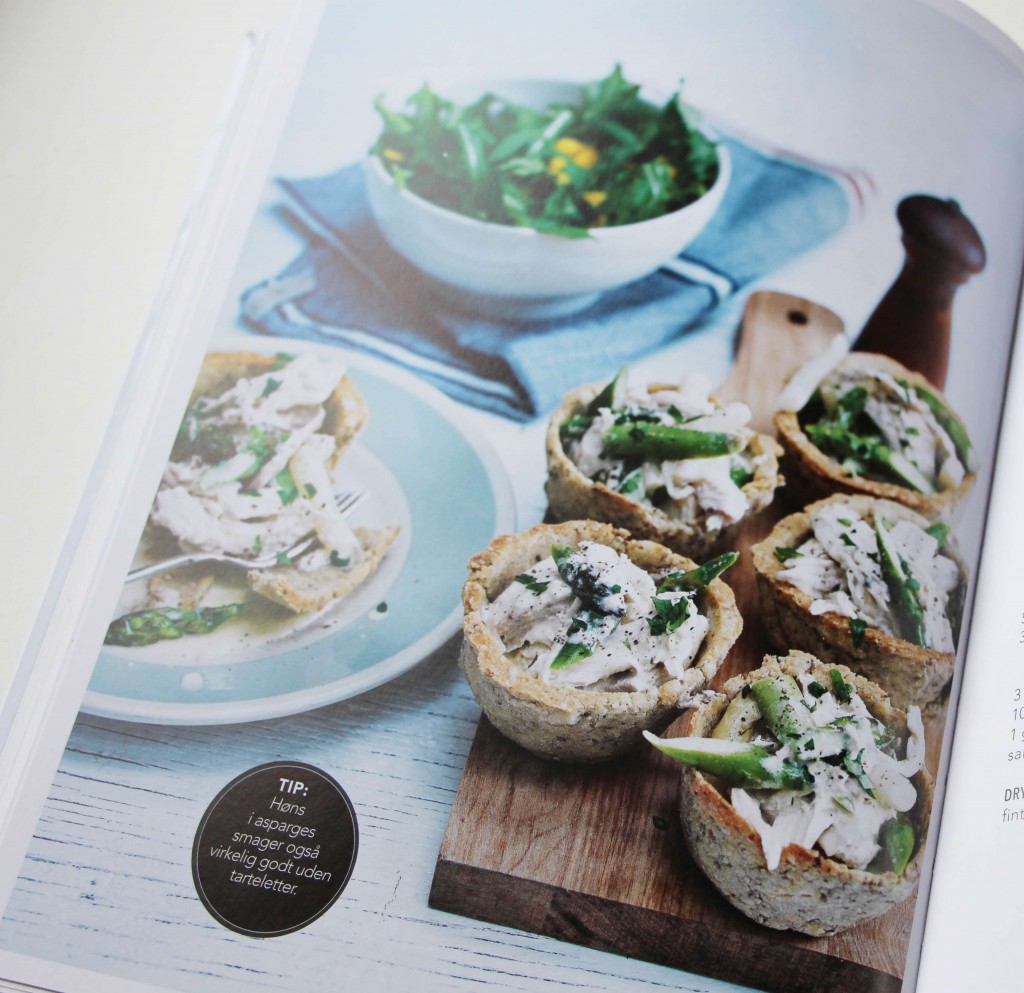 NB! Bogen er sponseret af Politikens Forlag, men ord, billeder og ikke mindst holdning er helt og aldeles min egen. :)