Warning
: preg_match() [
function.preg-match
]: Compilation failed: invalid range in character class at offset 4 in
/var/www/lowcarblivsstil.dk/public_html/wp-content/plugins/pinterest-pin-it-button/includes/simple_html_dom.php
on line
1364
Warning
: preg_match() [
function.preg-match
]: Compilation failed: invalid range in character class at offset 4 in
/var/www/lowcarblivsstil.dk/public_html/wp-content/plugins/pinterest-pin-it-button/includes/simple_html_dom.php
on line
1364
Warning
: preg_match() [
function.preg-match
]: Compilation failed: invalid range in character class at offset 4 in
/var/www/lowcarblivsstil.dk/public_html/wp-content/plugins/pinterest-pin-it-button/includes/simple_html_dom.php
on line
1364
Warning
: preg_match() [
function.preg-match
]: Compilation failed: invalid range in character class at offset 4 in
/var/www/lowcarblivsstil.dk/public_html/wp-content/plugins/pinterest-pin-it-button/includes/simple_html_dom.php
on line
1364
Warning
: preg_match() [
function.preg-match
]: Compilation failed: invalid range in character class at offset 4 in
/var/www/lowcarblivsstil.dk/public_html/wp-content/plugins/pinterest-pin-it-button/includes/simple_html_dom.php
on line
1364
Warning
: preg_match_all() [
function.preg-match-all
]: Compilation failed: invalid range in character class at offset 4 in
/var/www/lowcarblivsstil.dk/public_html/wp-content/plugins/pinterest-pin-it-button/includes/simple_html_dom.php
on line
684
Warning
: Invalid argument supplied for foreach() in
/var/www/lowcarblivsstil.dk/public_html/wp-content/plugins/pinterest-pin-it-button/includes/simple_html_dom.php
on line
691
Warning
: preg_match_all() [
function.preg-match-all
]: Compilation failed: invalid range in character class at offset 4 in
/var/www/lowcarblivsstil.dk/public_html/wp-content/plugins/pinterest-pin-it-button/includes/simple_html_dom.php
on line
684
Warning
: Invalid argument supplied for foreach() in
/var/www/lowcarblivsstil.dk/public_html/wp-content/plugins/pinterest-pin-it-button/includes/simple_html_dom.php
on line
691
Warning
: preg_match() [
function.preg-match
]: Compilation failed: invalid range in character class at offset 4 in
/var/www/lowcarblivsstil.dk/public_html/wp-content/plugins/pinterest-pin-it-button/includes/simple_html_dom.php
on line
1364
Warning
: preg_match() [
function.preg-match
]: Compilation failed: invalid range in character class at offset 4 in
/var/www/lowcarblivsstil.dk/public_html/wp-content/plugins/pinterest-pin-it-button/includes/simple_html_dom.php
on line
1364
Warning
: preg_match() [
function.preg-match
]: Compilation failed: invalid range in character class at offset 4 in
/var/www/lowcarblivsstil.dk/public_html/wp-content/plugins/pinterest-pin-it-button/includes/simple_html_dom.php
on line
1364
Warning
: preg_match() [
function.preg-match
]: Compilation failed: invalid range in character class at offset 4 in
/var/www/lowcarblivsstil.dk/public_html/wp-content/plugins/pinterest-pin-it-button/includes/simple_html_dom.php
on line
1364
Warning
: preg_match() [
function.preg-match
]: Compilation failed: invalid range in character class at offset 4 in
/var/www/lowcarblivsstil.dk/public_html/wp-content/plugins/pinterest-pin-it-button/includes/simple_html_dom.php
on line
1364
Warning
: preg_match_all() [
function.preg-match-all
]: Compilation failed: invalid range in character class at offset 4 in
/var/www/lowcarblivsstil.dk/public_html/wp-content/plugins/pinterest-pin-it-button/includes/simple_html_dom.php
on line
684
Warning
: Invalid argument supplied for foreach() in
/var/www/lowcarblivsstil.dk/public_html/wp-content/plugins/pinterest-pin-it-button/includes/simple_html_dom.php
on line
691
Warning
: preg_match_all() [
function.preg-match-all
]: Compilation failed: invalid range in character class at offset 4 in
/var/www/lowcarblivsstil.dk/public_html/wp-content/plugins/pinterest-pin-it-button/includes/simple_html_dom.php
on line
684
Warning
: Invalid argument supplied for foreach() in
/var/www/lowcarblivsstil.dk/public_html/wp-content/plugins/pinterest-pin-it-button/includes/simple_html_dom.php
on line
691
… Og nå ja, selvfølgelig uden sukker og mel – men det er vel underforstået? ;) Okay, egentligt er det vel en sandhed med modifikationer, eftersom glasuren består af smør og flødeost –men selve kagen er fri for ovenstående! :)
Jeg ved egentligt ikke hvorfor, jeg eksperimenter med at lave mine opskrifter mere mælkeprodukt-frie? Måske for at spare lidt på kulhydraterne, som jo unægtelig findes i mælkeprodukterne? Og så kan jeg godt lide tanken om, at min kager er fyldt med grøntsager – så virker de knapt så forbudte.. Hø hø! ;) Og så længe man ikke går på kompromis med smagen, så er det vel fint nok? ;)
Derfor er min citronmåne jo egentligt en slags squashkage – selvom man ikke kan smage squashen. Men den fungerer som en fantastisk fugtgivende erstatning for mælkeprodukterne – og giver masser af 'svampet-hed' – flot opfundet ord, dér! ;) Jeg bliver mere og mere glad for squashen – den finder vej alle steder i mine retter. Og så udmærker den sig jo ved, at have et latterligt lavt kulhydratindhold, så man kan sagtens bruge løs af den.. :)
Egentligt ville jeg bare have lavet en almindelig glasur af sukrinmelis og citronsaft, men undervejs i projektet gik det op for mig, at jeg var løbet tør for førstnævnte. Derfor var jeg nødsaget til, at snige lidt smør og flødeost ind, på trods af intentionen om at gøre den fri for mælkeprodukter. Og hvis jeg skal være helt ærlig? Så tror jeg resultatet blev bedre på denne måde, med den lækre sur/søde smør/oste-glasur. Mums!
Som I nok ser, er der kun en halv kage på billedet. Den anden halvdel rør en tur i fryseren. Desuden.. Så er den klassiske citronmåne jo ikke fuldmåne, vel? ;)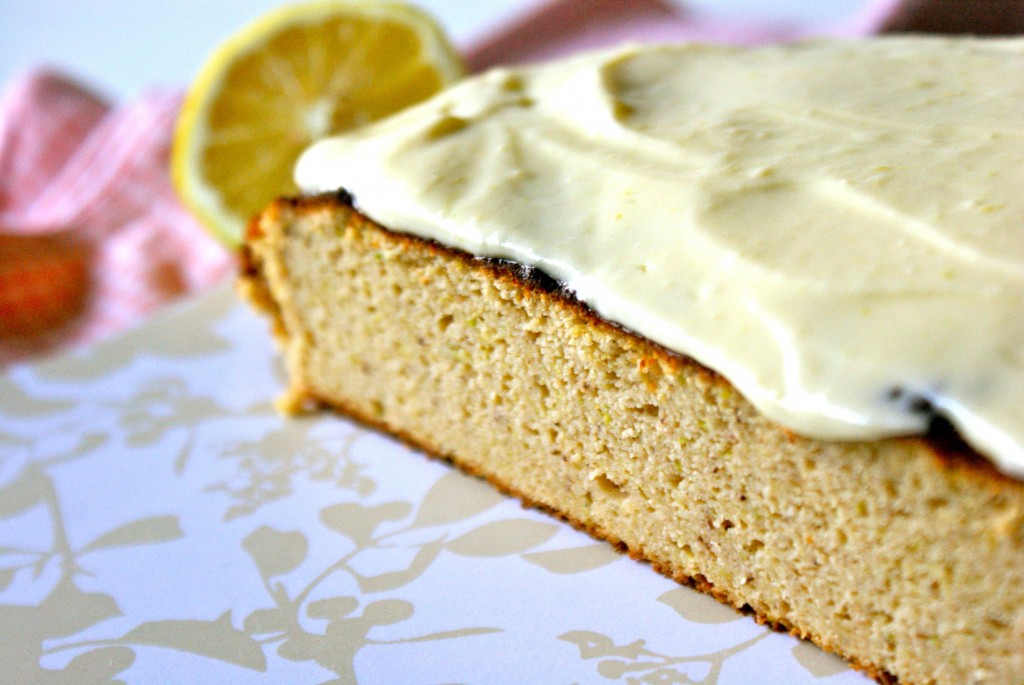 Opskrift – Low carb citronmåne (12 pers.):
8 æg
90 g. sukrin+ (prøv evt. den dobbelte mængde sukrin gold – den skulle efter sigende have mindre bismag?)
1/2 dl. smagsneutral olie
300 g. fintreven squash (skrællet – ellers bliver kagen grøn! ;) )
Skal og saft fra 2 citroner (økologiske)
3 tsk. bagepulver
1-2 tsk. Vaniljepulver
100 g. fint kokosmel (kokosfibre)
½ dl. fiberhusk
Æg og sukrin+ piskes let luftigt. De våde ingredienser (olie, squash, citronsaft og -skal) piskes i. Tilsidst tilsættes de tørre ingredienser, og dejen røres godt igennem elpiskeren til man kan mærke det tykner lidt. Hældes i en springform beklædt med bagepapir, og bages ca. 45-50 minutter ved 200grader. Lav evt. lige strikkepinde-nummeret! ;)
Glasuren (til en halv kage – altså en måne! ;) ): 1 stor spsk. sukrin+ (pulveriseret) ryger en tur i minihakkeren sammen med 2 spsk smør, 1 spsk flødost, 1 tsk. Citronskal og 1 spsk. citronsaft. Smørres ud på kagen, når kagen er helt afkølet.