Warning
: preg_match() [
function.preg-match
]: Compilation failed: invalid range in character class at offset 4 in
/var/www/lowcarblivsstil.dk/public_html/wp-content/plugins/pinterest-pin-it-button/includes/simple_html_dom.php
on line
1364
Warning
: preg_match() [
function.preg-match
]: Compilation failed: invalid range in character class at offset 4 in
/var/www/lowcarblivsstil.dk/public_html/wp-content/plugins/pinterest-pin-it-button/includes/simple_html_dom.php
on line
1364
Warning
: preg_match() [
function.preg-match
]: Compilation failed: invalid range in character class at offset 4 in
/var/www/lowcarblivsstil.dk/public_html/wp-content/plugins/pinterest-pin-it-button/includes/simple_html_dom.php
on line
1364
Warning
: preg_match() [
function.preg-match
]: Compilation failed: invalid range in character class at offset 4 in
/var/www/lowcarblivsstil.dk/public_html/wp-content/plugins/pinterest-pin-it-button/includes/simple_html_dom.php
on line
1364
Warning
: preg_match() [
function.preg-match
]: Compilation failed: invalid range in character class at offset 4 in
/var/www/lowcarblivsstil.dk/public_html/wp-content/plugins/pinterest-pin-it-button/includes/simple_html_dom.php
on line
1364
Warning
: preg_match() [
function.preg-match
]: Compilation failed: invalid range in character class at offset 4 in
/var/www/lowcarblivsstil.dk/public_html/wp-content/plugins/pinterest-pin-it-button/includes/simple_html_dom.php
on line
1364
Warning
: preg_match() [
function.preg-match
]: Compilation failed: invalid range in character class at offset 4 in
/var/www/lowcarblivsstil.dk/public_html/wp-content/plugins/pinterest-pin-it-button/includes/simple_html_dom.php
on line
1364
Warning
: preg_match_all() [
function.preg-match-all
]: Compilation failed: invalid range in character class at offset 4 in
/var/www/lowcarblivsstil.dk/public_html/wp-content/plugins/pinterest-pin-it-button/includes/simple_html_dom.php
on line
684
Warning
: Invalid argument supplied for foreach() in
/var/www/lowcarblivsstil.dk/public_html/wp-content/plugins/pinterest-pin-it-button/includes/simple_html_dom.php
on line
691
Warning
: preg_match_all() [
function.preg-match-all
]: Compilation failed: invalid range in character class at offset 4 in
/var/www/lowcarblivsstil.dk/public_html/wp-content/plugins/pinterest-pin-it-button/includes/simple_html_dom.php
on line
684
Warning
: Invalid argument supplied for foreach() in
/var/www/lowcarblivsstil.dk/public_html/wp-content/plugins/pinterest-pin-it-button/includes/simple_html_dom.php
on line
691
Warning
: preg_match() [
function.preg-match
]: Compilation failed: invalid range in character class at offset 4 in
/var/www/lowcarblivsstil.dk/public_html/wp-content/plugins/pinterest-pin-it-button/includes/simple_html_dom.php
on line
1364
Warning
: preg_match() [
function.preg-match
]: Compilation failed: invalid range in character class at offset 4 in
/var/www/lowcarblivsstil.dk/public_html/wp-content/plugins/pinterest-pin-it-button/includes/simple_html_dom.php
on line
1364
Warning
: preg_match() [
function.preg-match
]: Compilation failed: invalid range in character class at offset 4 in
/var/www/lowcarblivsstil.dk/public_html/wp-content/plugins/pinterest-pin-it-button/includes/simple_html_dom.php
on line
1364
Warning
: preg_match() [
function.preg-match
]: Compilation failed: invalid range in character class at offset 4 in
/var/www/lowcarblivsstil.dk/public_html/wp-content/plugins/pinterest-pin-it-button/includes/simple_html_dom.php
on line
1364
Warning
: preg_match() [
function.preg-match
]: Compilation failed: invalid range in character class at offset 4 in
/var/www/lowcarblivsstil.dk/public_html/wp-content/plugins/pinterest-pin-it-button/includes/simple_html_dom.php
on line
1364
Warning
: preg_match() [
function.preg-match
]: Compilation failed: invalid range in character class at offset 4 in
/var/www/lowcarblivsstil.dk/public_html/wp-content/plugins/pinterest-pin-it-button/includes/simple_html_dom.php
on line
1364
Warning
: preg_match() [
function.preg-match
]: Compilation failed: invalid range in character class at offset 4 in
/var/www/lowcarblivsstil.dk/public_html/wp-content/plugins/pinterest-pin-it-button/includes/simple_html_dom.php
on line
1364
Warning
: preg_match_all() [
function.preg-match-all
]: Compilation failed: invalid range in character class at offset 4 in
/var/www/lowcarblivsstil.dk/public_html/wp-content/plugins/pinterest-pin-it-button/includes/simple_html_dom.php
on line
684
Warning
: Invalid argument supplied for foreach() in
/var/www/lowcarblivsstil.dk/public_html/wp-content/plugins/pinterest-pin-it-button/includes/simple_html_dom.php
on line
691
Warning
: preg_match_all() [
function.preg-match-all
]: Compilation failed: invalid range in character class at offset 4 in
/var/www/lowcarblivsstil.dk/public_html/wp-content/plugins/pinterest-pin-it-button/includes/simple_html_dom.php
on line
684
Warning
: Invalid argument supplied for foreach() in
/var/www/lowcarblivsstil.dk/public_html/wp-content/plugins/pinterest-pin-it-button/includes/simple_html_dom.php
on line
691
Sidst på sommeren (jeps, så aktuelt er mit indlæg!! :P ) havde jeg besøg af min veninde, som var i gang med et af Anna Bogdanovas forløb. Hun havde derfor lidt forbehold ift. sin kost.
Personligt bliver jeg altid meget glad, når jeg bliver inviteret ud og oplever, at folk har taget hensyn til mig og mine kostvalg. Jeg er sjældent besværlig, og spiser det der bliver serveret efter bedste evne, men derfor bliver man jo rigtig glad, når der er lavet lækre salater og fed mayodip! :P
Af samme årsag forsøger jeg altid at tage hensyn til mine gæster, og lave noget de også kan spise med velbehag. Jeg forhørte mig derfor med do's and don'ts, og kom op med denne lækre lasagne. En lasagne, der er høj på protein og grøntsager – og selvfølgelig uden mel og andet stads. ;)
Og retten er heldigvis nem at 'fedte retten til'. Jeg pøsede godt med dressing på min salat og toppede min lasagne med ekstra ost. Win win.. ;)
Jeg er jo ikke typen, der slavisk følger en opskrift, men for eksperimentets skyld noterede jeg mig undervejs, hvad der røg i retten. Til at regne ernæringsindholdet ud, brugte jeg app'en LifeSum. Jeg ved ikke hvor pålidelig den er, men om ikke andet, kan det give en sådan cirkus fornemmelse af indholdet. :)
Og hvis du tænker; det var da en lillebitte lasagne, så vil jeg komme med et indspark: jeg fik ca. 2,5 af disse fade ud af portionen. Jeg er ejer bare ikke et stort lasagnefad længere. Og ja, salatfadet er VIRKELIG stort, så det snyder også lidt. :P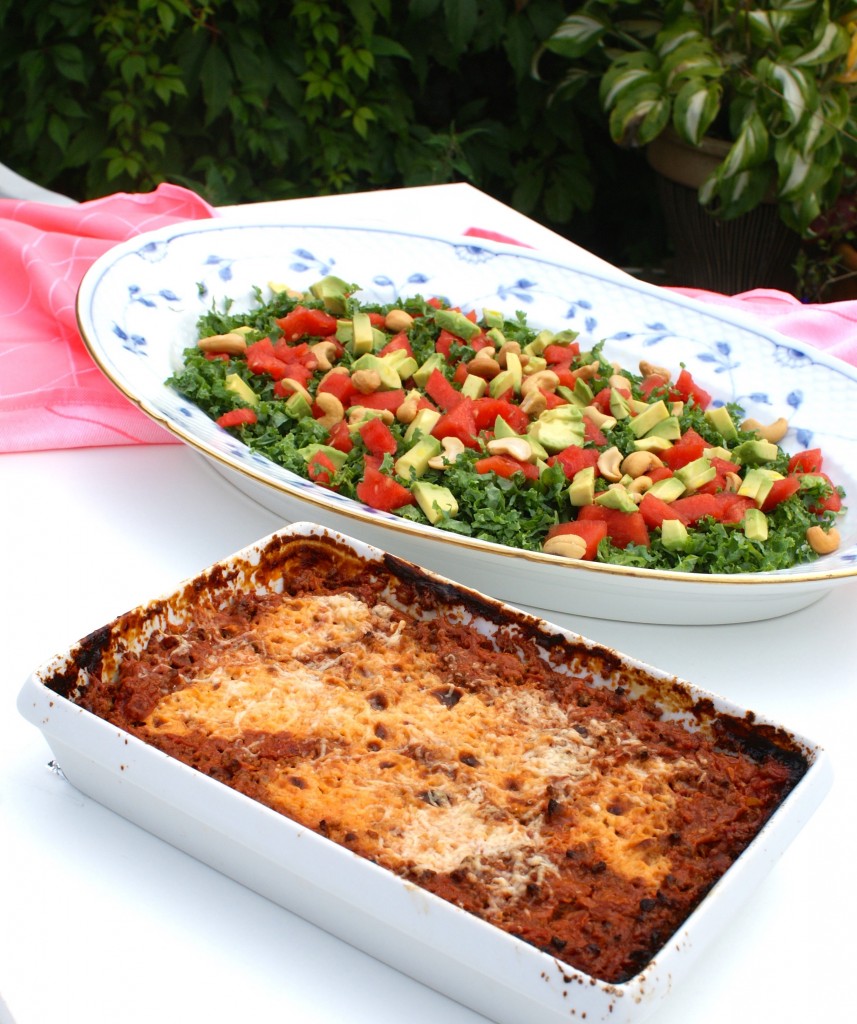 Opskrift – Low carb high protein lasagne (8 portioner):
Kødsovs:
2 spsk. olie
2-5 fed hvidløg (50 gram)
2 – 3 løg (185 gram)
500 gram hakket oksekød (5-10%)
2 dåser hakkede tomater
1 stor dåse tomatpuré
1 reven courgette (350 gram)
Krydderier: salt, peber, oregano, chili
Lasagneplader:
5 æg
170 gram skyr
2 spsk. fiberhusk
Ostesovs:
300 gram hytteost 4%
35 gram parmesan
(evt. lidt reven muskatnød)
Tænd ovnen på 200 grader.
Svits løg og hvidløg i olien. Tilsæt hakket oksekød og lad det brune med. Tilsæt tomatpuré, hakkede tomater og reven courgette. Lad det simre en halv times tid og smag til med krydderier.
Beklæd to bageplader med papir.
Skål æg ud i en skål og tilsæt skyr. Rør det sammen med en elpisker til det er en ensartet dej. Tilsæt fiberhusk og pisk. Derefter skal du (forholdsvis hurtigt) hælde dejen ud på de to bageplader – en halvdel af dejen på hver. Dejen bredes ud på bagepapiret med en dejskraber. Det kommer til at fylde lige knap én bageplade (hvad der svarer til ca. 1 ½ plade alt i alt).
Bages ca. 10 minutter i ovnen eller til det er blevet fast og har taget farve.
Blend hytteost med halvdelen af parmesanosten (og evt. lidt reven muskatnød). Gem halvdelen af parmesanen til at drysse ovenpå.
Nu skal lasagnen 'samles'. Lasagneplader skæres, så de passer til dit fad. Læg plader og kødsovs skiftevis lag på lag. Fordel ostesovsen på toppen og drys med parmesan til sidst.
Bages ca. ½ times tid.
Servér en lækker salat til retten og spis. :)
Ernæringsinformation pr. portion
306 kcal.
Protein 29 gram
Kulhydrat 14 gram
Fedt 15,5 gram
Energifordeling: 23% kulhydrat, 27% fedt og 50% protein