Warning
: preg_match() [
function.preg-match
]: Compilation failed: invalid range in character class at offset 4 in
/var/www/lowcarblivsstil.dk/public_html/wp-content/plugins/pinterest-pin-it-button/includes/simple_html_dom.php
on line
1364
Warning
: preg_match() [
function.preg-match
]: Compilation failed: invalid range in character class at offset 4 in
/var/www/lowcarblivsstil.dk/public_html/wp-content/plugins/pinterest-pin-it-button/includes/simple_html_dom.php
on line
1364
Warning
: preg_match() [
function.preg-match
]: Compilation failed: invalid range in character class at offset 4 in
/var/www/lowcarblivsstil.dk/public_html/wp-content/plugins/pinterest-pin-it-button/includes/simple_html_dom.php
on line
1364
Warning
: preg_match() [
function.preg-match
]: Compilation failed: invalid range in character class at offset 4 in
/var/www/lowcarblivsstil.dk/public_html/wp-content/plugins/pinterest-pin-it-button/includes/simple_html_dom.php
on line
1364
Warning
: preg_match() [
function.preg-match
]: Compilation failed: invalid range in character class at offset 4 in
/var/www/lowcarblivsstil.dk/public_html/wp-content/plugins/pinterest-pin-it-button/includes/simple_html_dom.php
on line
1364
Warning
: preg_match() [
function.preg-match
]: Compilation failed: invalid range in character class at offset 4 in
/var/www/lowcarblivsstil.dk/public_html/wp-content/plugins/pinterest-pin-it-button/includes/simple_html_dom.php
on line
1364
Warning
: preg_match() [
function.preg-match
]: Compilation failed: invalid range in character class at offset 4 in
/var/www/lowcarblivsstil.dk/public_html/wp-content/plugins/pinterest-pin-it-button/includes/simple_html_dom.php
on line
1364
Warning
: preg_match_all() [
function.preg-match-all
]: Compilation failed: invalid range in character class at offset 4 in
/var/www/lowcarblivsstil.dk/public_html/wp-content/plugins/pinterest-pin-it-button/includes/simple_html_dom.php
on line
684
Warning
: Invalid argument supplied for foreach() in
/var/www/lowcarblivsstil.dk/public_html/wp-content/plugins/pinterest-pin-it-button/includes/simple_html_dom.php
on line
691
Warning
: preg_match_all() [
function.preg-match-all
]: Compilation failed: invalid range in character class at offset 4 in
/var/www/lowcarblivsstil.dk/public_html/wp-content/plugins/pinterest-pin-it-button/includes/simple_html_dom.php
on line
684
Warning
: Invalid argument supplied for foreach() in
/var/www/lowcarblivsstil.dk/public_html/wp-content/plugins/pinterest-pin-it-button/includes/simple_html_dom.php
on line
691
Warning
: preg_match() [
function.preg-match
]: Compilation failed: invalid range in character class at offset 4 in
/var/www/lowcarblivsstil.dk/public_html/wp-content/plugins/pinterest-pin-it-button/includes/simple_html_dom.php
on line
1364
Warning
: preg_match() [
function.preg-match
]: Compilation failed: invalid range in character class at offset 4 in
/var/www/lowcarblivsstil.dk/public_html/wp-content/plugins/pinterest-pin-it-button/includes/simple_html_dom.php
on line
1364
Warning
: preg_match() [
function.preg-match
]: Compilation failed: invalid range in character class at offset 4 in
/var/www/lowcarblivsstil.dk/public_html/wp-content/plugins/pinterest-pin-it-button/includes/simple_html_dom.php
on line
1364
Warning
: preg_match() [
function.preg-match
]: Compilation failed: invalid range in character class at offset 4 in
/var/www/lowcarblivsstil.dk/public_html/wp-content/plugins/pinterest-pin-it-button/includes/simple_html_dom.php
on line
1364
Warning
: preg_match() [
function.preg-match
]: Compilation failed: invalid range in character class at offset 4 in
/var/www/lowcarblivsstil.dk/public_html/wp-content/plugins/pinterest-pin-it-button/includes/simple_html_dom.php
on line
1364
Warning
: preg_match() [
function.preg-match
]: Compilation failed: invalid range in character class at offset 4 in
/var/www/lowcarblivsstil.dk/public_html/wp-content/plugins/pinterest-pin-it-button/includes/simple_html_dom.php
on line
1364
Warning
: preg_match() [
function.preg-match
]: Compilation failed: invalid range in character class at offset 4 in
/var/www/lowcarblivsstil.dk/public_html/wp-content/plugins/pinterest-pin-it-button/includes/simple_html_dom.php
on line
1364
Warning
: preg_match_all() [
function.preg-match-all
]: Compilation failed: invalid range in character class at offset 4 in
/var/www/lowcarblivsstil.dk/public_html/wp-content/plugins/pinterest-pin-it-button/includes/simple_html_dom.php
on line
684
Warning
: Invalid argument supplied for foreach() in
/var/www/lowcarblivsstil.dk/public_html/wp-content/plugins/pinterest-pin-it-button/includes/simple_html_dom.php
on line
691
Warning
: preg_match_all() [
function.preg-match-all
]: Compilation failed: invalid range in character class at offset 4 in
/var/www/lowcarblivsstil.dk/public_html/wp-content/plugins/pinterest-pin-it-button/includes/simple_html_dom.php
on line
684
Warning
: Invalid argument supplied for foreach() in
/var/www/lowcarblivsstil.dk/public_html/wp-content/plugins/pinterest-pin-it-button/includes/simple_html_dom.php
on line
691
Jeg ved ikke om det er regnvejret, der gør det, men ikke desto mindre har jeg haft voldsomt lyst til Chili Con Carne, og allerhelst med alt det lækre snask der hører til (i hvert fald i den 'fordanskede' udgave). ;) Selve Chili'en er jo ikke svær LCHFticere, men nachoes med cheddar er jo ikke ligefrem udpræget low carb, for at sige det mildt.. Men i virkeligheden er det nok osten, der er det fantastiske ved nachoes – og det er jo heldigvis ren LCHF style!
Ideen til oste-'nachoen' fandt jeg hos frk. Sveske. Og jeg fik ret: med kombinationen af ost og avocado, så behøver man slet ikke selve nachoen.. ;) Og så er det jo en fantastisk måde, at få brugt sine osterester, og mine nachoes blev da også en kombination af parmesan og cheddar. Og så fik de ca. 10-15min. i ovnen ved 200grader – det er da nemt! :)
Jeg serverede min Chili Con Carne med en god klat creme fraiche og en grov guacamole, og tilbehøret blev en omgang blandet salat med en tsk. pesto ovenpå.
Hvis du vil have den helt 'mælkeprodukt fri', så bruger du bare olie i stedet for smør og undlader fløden. :)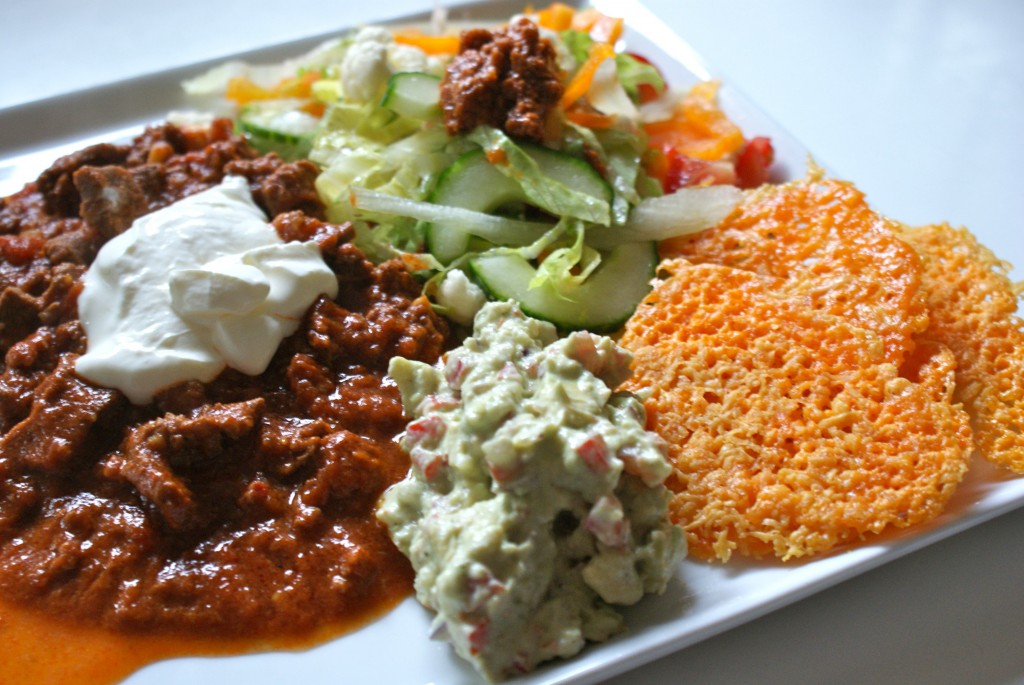 Opskrift – Chili Con Carne:
30-40g. smør
2 løg
5-6 fed hvidløg
1 chili (kommer an på, hvor stærk du vil have den ;))
500g. hakket oksekød
500g. skært oksekød (jeg brugte bankekød skåret i stykker)
1 dåse tomatpuré (140ml.)
2 dåser hakkede tomater
½ kop stærk kaffe
½ dl. piskefløde
Smag til med salt, peber og evt. lidt kalvefond.
Smelt smørret i en gryde. Tilsæt hakket løg, hvidløg og chili, som svitses heri. Derefter tilsættes kødet, som brunes let af. Tilsæt de resterende ingredienser (minus fløden) og lad det simre 2-3 timer. Smag til sidst retten til med salt, peber og fond. Hæld fløde i – det runder så dejligt af. :)
Opskrift – Grov guacamole:
2 modne avocadoer
1 tomat
½ rødløg
1-2 spsk. creme fraiche
1 fed hvidløg
Salt, peber, citronsaft og chilipulver.
Løget, hvidløg og tomat (minus indmad) hakkes fint. Flæk avocadoerne og skrab kødet ud med en ske. Mos avocadoen ned i skålen sammen med tomat og hvidløg. Tilsæt creme fraiche til det har den ønskede konsistens. Smag til med lidt citronsaft, salt og peber.